About the happenings over at
Dirty Footprints Studio
? What about Secrets? Hows about 21 of them? Okay I'll stop beating around the bush and tell ya, Connie and a few of her friends (20 of 'em) are doing this exciting workshop and it goes on sale Monday, yes Monday 9-20. Here is the awesome link to
21 Secrets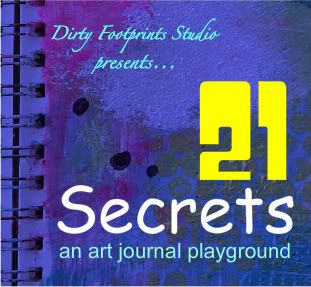 Speaking for myself I'm excited to learn about Ancient Chinese Paper Cutting meets Modern Art Journal by Emma Peabody. I mean really, who doesn't like to cut up paper?
And then there is Everything but the Kitchen Sink by Heidi Newstrand-Dilley. Humm, maybe I can add the kitchen sink...if I get this really totally really big journal. Hey it could happen.
And I can top those off with some Old Skool Art: Glazes 101 by Less Herger. In my mind I'm picturing glowing tones of color uniting life and the fearless act of art.
Now these are just 3 of the Artist in this huge, huge workshop, not to mention Connie herself presenting Get it Out::Get it down
So come on and get down with it, after all inspiration needs tools to work with and what better way than this bigger then huge workshop. Ya know I have a sneaky feeling we may learn a little more than just
21 Secrets

.